Bennett X-Ray E30068-C Cathode transformer tank
We do repair and exchange of these transformer tanks as used in The Bennett HFQ series hi-frequency x-ray generators. We have been repairing these tanks for almost 10 years. 60 day warranty. Also used in some GE generators and HCMI. Pricing is with exchange of your old tank/core.This pricing is for U.S. orders only. Please contact us for international orders.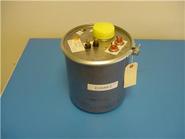 The old tank/core needs be returned us with twenty day of order date.
Standard ground shipping is ok for return shipping.
If you wish to pay directly for the shipping charges, select "use your shipper" from the drop down menu
on the Paypal to the left and provide us with your FedEx account number.